Key Events in 2019
February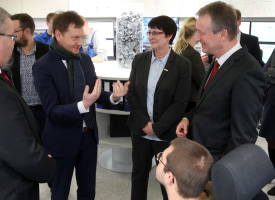 Saxony's State Governor Michael Kretschmer visited WACKER's site in Nünchritz, where he talked to company executives, plant management, the employee council, and employees.
March
WACKER attended the European Coatings Show 2019 in Nuremberg, presenting new polymeric binders, pyrogenic silicas and silicones for paints, adhesives and construction solutions. The company also focused on polymeric binders based on renewable raw materials.
June
WACKER dedicated a new production line for silicone elastomers at its Zhangjiagang site in China.
August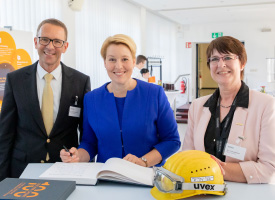 German Family Af fairs Minister Franziska Giffey visited the WACKER site in Nünchritz, Saxony, where she spoke with WACKER Executive Board member Dr. Christian Hartel and employees about the company's family-oriented personnel policies.
September
WACKER acquired a s take in British battery material specialist Nexeon Ltd., thus intensifying WACKER research into silicon-based materials for high-performance batteries.
September
Following a 20-month construction phase, WACKER opened a new spray dryer in Ulsan, South Korea, for manufacturing dispersible polymer powders.
October
WACKER presented innovative silicones at the K 2019 international trade fair for plastics and rubber. Event visitors were impressed by the improved product and processing properties of liquid and solid silicone rubber grades – which, for example, are self-adhesive, offer greater fire protection, and are more electroactive.
October
WACKER presented the Alexander WACKER Innovation Award to two employees for the development of CAVACURMIN®. This nutritional supplement contains curcumin, an antiinflammatory, antibacterial extract of turmeric. The cyclodextrins in the supplement allow the body to absorb the curcumin much faster.
October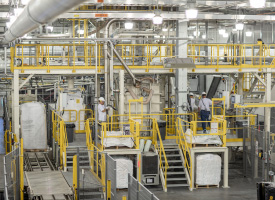 WACKER brought a pyrogenic silica manufacturing plant on stream at its us site in Charleston, Tennessee – a move that expands production there.
November
WACKER Chemie AG opened a plant for manufacturing silicon metal at its site in Holla, Norway. The Group invested roughly €100 million in the new plant, which was built according to the most modern standards, resulting in an exceptionally efficient facility with low maintenance requirements.
November
A key project for digital communication was completed when WACKER relaunched its website. The technology, content and structure of the Group website were all completely updated.
November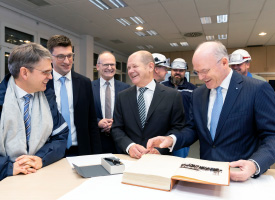 President & CEO Dr. Rudolf Staudigl and Site Manager Dr. Dieter Gilles welcomed German Minister of Finance and Vice Chancellor Olaf Scholz to the Burghausen site. Mr. Scholz learned about silicon deposition processes and about the significance of WACKER POLYSILICON products in protecting the climate.