Key Events in 2020
January
After being commissioned in 2019, the new gas turbine for the Burghausen site's captive power plant is now in operation. This reduces CO2 emissions by 300,000 metric tons and nitrogen ­oxides by 30 percent. The electricity generated is easier to adjust to ­actual electricity needs. The 135-megawatt power plant is a significant factor in securing the site's supply of ­electricity and energy.
March
Due to the coronavirus pandemic, WACKER donated 11,000 liters of isopropyl alcohol to make 15,000 liters of disinfectants for Bavarian hospitals and care facilities.
April
Production of silicone cartridges at the company's Nünchritz site, which began late 1998/early 1999, reached one billion units.
May
The pandemic triggered the biggest decline in WACKER'S sales in a single month.
July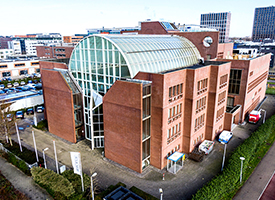 WACKER invested in its Amsterdam production facilities for biologics, LMPs (live microbial products) and vaccines.
August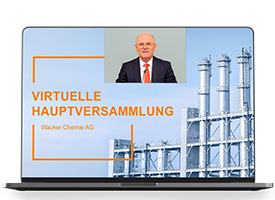 The coronavirus pandemic compelled WACKER to hold its first-ever online Annual Shareholders' Meeting.
September
WACKER opened a competence center for thermal interface materials in Shanghai.
September
It presented SeungA Lee and JungEun Lee of South Korea with the ­Alexander Wacker Innovation Award for developing new silicone resins for ­optical bonding applications.
October
WACKER'S Executive Board and employee representatives signed a framework agreement on the Shape the Future efficiency program. By 2022, the Group plans to cut about 1,200 jobs and save a total of €250 million, half in personnel and half in non-personnel costs.
October
WACKER expanded its capacity for making polymer products in China by investing around US$100 million to build two new production plants at its Nanjing site.
November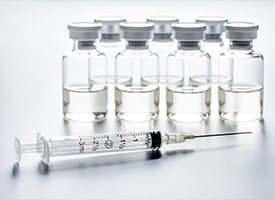 WACKER and biopharmaceutical ­company CureVac signed a contract to produce an mRNA-based vaccine against Covid-19. WACKER'S Amsterdam site plans to make around 100 million doses of the CureVac ­vaccine annually.
December
WACKER'S Supervisory Board approved an agreement to sell WACKER'S stake in Siltronic AG, its publicly listed associate, to Taiwan's ­GlobalWafers Co., Ltd. WACKER holds a stake of about 30.8 percent in Siltronic AG. The offer price was €125 per share.
December
The Supervisory Board took key personnel decisions for the future. Dr. Christian Hartel is to become Wacker Chemie AG'S new president and CEO in May 2021. He will succeed Dr. Rudolf Staudigl, who retires at the end of the Annual Shareholders' Meeting. Angela Wörl will join the Executive Board as personnel director.